Georgia Bear, Deer and Hog combo hunts. See the Georgia Big Game page for details.



Canada Black Bear for 2018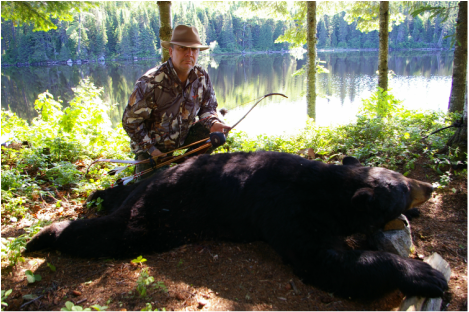 Looking for heart pounding bear hunting action? Come to Canada and hunt Quebec's famed Mastigouche Wilderness Reserves for giant black bear. We have maintained a 100% shot opportunity success rate since 1996 and this includes hunters that return year after year for P&Y and B&C bears only and pass on many bears. This is the land of moose, wolves and of course, monster black bear. All weapons are welcome but we can promise bowhunters that we can get you close. These are five and six day all inclusive hunts with comfortable cabins on nearly 1500 square miles of wilderness area that allows only 32 bear permits. Regardless of your level of experience, we have a wild hunt waiting for you as this place is like no other.
You know you have always dreamed of a hunt like this so lets get out there!
We offer a full 5 day and 7 day hunting package so please call Jerry for more information at 678-776-4502.

---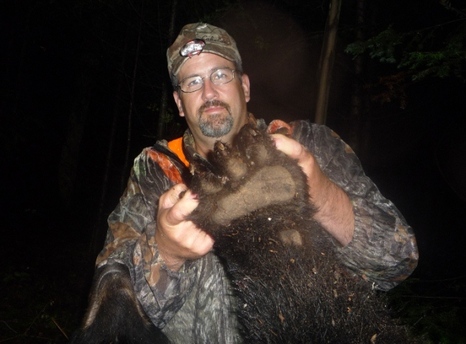 A fast paced video look at bear hunts with Russell Outdoor Guides
This video highlights the stunning beauty of our wilderness camp, great
cabins, clean bait sites and shows a couple great bear hunts along the way.
It is best viewed in HD. Enjoy!
Bear Camp Locations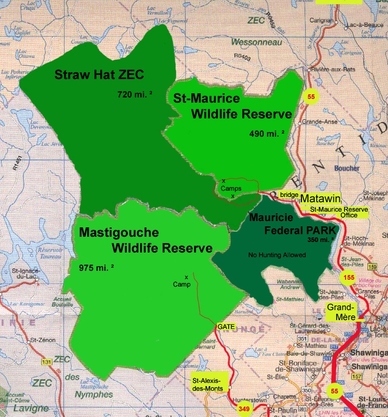 Our Bear camps are located inside of Quebec's Mastigouche Wildlife Reserve. We are the only bear outfitter allowed to host hunters within this huge reserve. Our camp is within easy driving distance of many Eastern US cities and if you choose to fly in to Montreal, we are only a quick 2 hour drive North. We hold exclusive bear hunting rights on over 1,500 square miles of wilderness bear territory. These vast areas are bordered by two parks that do not allow hunting. This makes for more than 2500 square miles of wilderness where only 32 bear tags are issued. These conditions combine to give fantastic bear densities AND old age class bears. If you are looking for a record book bear, this is the place to hunt them.
Our all-inclusive pricing is just that-ALL INCLUSIVE. When you arrive in camp we will take care of everything. Great food, comfortable lodging, multiple hot bear baits, transportation, tracking, skinning and trophy care. There are no hidden cost just monster bears and good times! 2018 Hunt Prices
5 day all inclusive hunt- $3,250.00 Plus License and Canada sales tax
New 7 day all inclusive Hunts -$3,450.00 Plus License and Sales tax Questions? Call Jerry @ 678-776-4502
2018 Extended Trophy hunt booked 80%
2018 5 day hunts booked 70%

Our promise to you.
Our guides will work very hard to provide you with a hunt of a lifetime. You will have clean cabins, great meals and multiple clean active bait sites during your hunt.

Questions about our bear camp? Please call us with any questions you may have. We LOVE to talk bear hunting and look forward to speaking with you.
Jerry Russell Phone: 678-776-4502 Email: stickbowjerry@hotmail.com

You will arrive a client but you will leave as a friend.
---
Africa Hunting Packages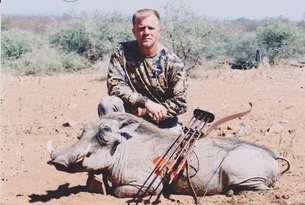 Russell Outdoor Guides offers advanced planning services that will assist you with all stages of planning your African adventure. This includes ALL aspects of planning your hunt. The logistics of your first African hunt can be overwhelming so let us help you get it right, the first time around.

Logistic planning on our package hunts. This is a free service! We can offer advanced planning to our incredible hunting locations along with unbelievable package prices on plains game species. We guarantee you will pay nothing for this service if you use our approved outfitters. We will only offer this service to locations that we have personally hunted, thereby removing the risk associated with booking your own hunt. Bottom line- We have been there and have rated all services provided. Give us your species list and we will provide hunt packages that will simply not be beat. We offer highly productive hunt locations that are safe for you and your entire family. Bow and gun hunting concession available.

We have incredible all-inclusive 5 animal hunt packages starting as low as $4,950.00.00 so why wait. Call us for details.
---