Bowfishing
The perfect blend of fishing and hunting makes for great fun. We offer day and night trips and this is a great adventure for both the beginner and the experienced archers. Bring your own bow or we can supply one for you. We run a GENERATOR FREE boat so you can enjoy the peace and quiet of these awesome night adventures. Come stalk the shallows during the day or climb aboard the "Mother Ship" our 17' tunnel hull river boat as we light up the night for fast paced bowfishing action. Check out our bowfishing video below the bowfishing photo gallery and then give us a call! Pricing: Lake or river shoot South of Atlanta-$335. All shoots North of Atlanta- $310.00 (this price is for two shooters). We can combine these shoots with great striper fishing.
Fishing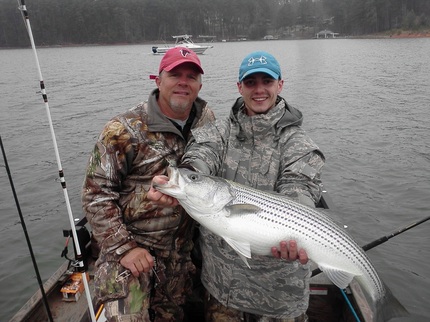 Russell Outdoor Guides offers a wide range of sesonal fishing adventures including stiped bass, largemouth bass and many other species including trophy shark trips in the Gulf of Mexico. Contact us for more details.
Trophy Shark Fishing- Russell Outdoor Guides can put you in the battle of a lifetime with these apex predators! With more than 35 years of experience, we can help you catch the trophy of a lifetime. We will also film your adventure. Price on request (location dependent).
Striped Bass Special! We are currently conducting guided striped bass trips on Lake Juliette and Lake Lanier. Spring time is the time to catch the MONSTERS! 5 hour striped bass trips for two people are $400.00 on Lake Juliette and $380.00 on Lake Lanier and include live bait, quality tackle, drinks and a fantastic boat. Add a third person for only $50.00. Consider combining this trip with some bowfishing action for a great value.
---